We love reading books together at our house! Spanish, English, bilingual, wordless – I LOVE books and I'm trying my best to pass on that love to my children. My husband sometimes says that I have a problem because I honestly can't pass up buying a good book. My kids get books for Christmas, Valentine's Day, Easter, their birthdays, a random Tuesday – really anytime! And I always like to have some special children's books on hand for when we need a gift.
So, today I'm sharing my son's top favorite Spanish and bilingual books to inspire your little ones to love reading, too! These are truly just books that we have at home and have read and reread countless times. He's reading lots of interesting books independently now, and loves listening to exciting chapter books at bedtime (we're reading the Harry Potter books right now and he's in love!). However, this list is of picture books that he enjoys.
I didn't buy any new ones for this post, and I didn't check to make sure I have a great variety of topics, authors, or anything else. Because they are just his very favorites! He loves dragons, animals, silliness, and anything nonfiction. Does your child, too?
Happy reading!
Looking for more top book recommendations? Support Bilingual Balance and local bookstores by purchasing my top picks on Bookshop.
This post has some affiliate links. If you click an affiliate link and make a purchase, I make a small commission to support this blog at no additional cost to you.
My son loves science and he often picks nonfiction books to read on his own or with me. This "Autobús mágico" book doesn't disappoint – lots of information packed into an entertaining field trip with Ms. Frizzle and our favorite Magic School Bus characters.
The title says it all! Dragons. And tacos. This book is a sweet story for kids who enjoy imagining they have their own pet dragon to share the day with. Pure entertainment. We've given it as a gift to a few of his friends!
The Scholastic "Discover More" series is so wonderful for kids this age! In English or Spanish, the facts are the shocking, can't-believe-it kind that kids love. He loves the pictures, too.
This Usborne book (no, I don't sell Usborne books, I just love them!) is a lift-the-flap type book for older kids. My son loves lifting all the flaps and learning something new each time. It is FULL of interesting information and vocabulary words about the human body! Of course, I love all the learning that happens when we read this one.
If you're thinking that your child who is much younger loves this one, yes, we've been reading it for a while! It's still one that he picks to read together. He loves it because I sometimes make him his own green eggs after we read it, and he can enjoy the story in English, too. I love it because it's very repetitive (you hear the same lines over and over) and I can leave out a word or two and let him finish the sentence for me. He can even read it to his little sisters now!
This one is so fun! When he was younger it was a little too long – too many words. Now that he's older, he enjoys hearing all the crazy ways the little girl changes. I love it because of the great range of vocabulary we can learn from it!
The illustrations in this one are the best. Each page has beautiful pictures, text describing places all over the world (field trip in a book!), and captions on the illustrations to aid in vocabulary learning. I love this one for language learners like my kids.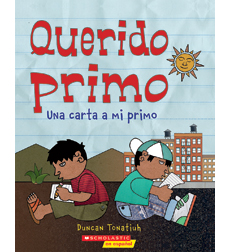 Have you read this one in English? My son got this as a gift from one of his teachers and we love the bicultural story! Two cousins write letters to each other and learn about their very different lives.
¿Puedo ser su perro? By Troy Cummings
Do you have a dog lover like me? My son adores books about dogs, and this one is full of letters the dog writes asking neighbors if he can be their dog. A great introduction to a class lesson or home project on letter writing! Get your child thinking about writing a persuasive letter to someone with this fun book.
This is an amusing book about a boy and his crayons that write him letters about how much he's using (or not using) them. We usually just read about a few colors at a time when we read this one because it's longer. But he loves the illustrations and that the crayons get a voice.
This simple book about nocturnal animals doesn't have very many words on each page, so it would be good for a child with less Spanish background or even younger kids, too. My son loves the spooky, dark pages, and the surprises!
Believe it or not, this has become a recent favorite bedtime book for us. Who knew reading about the world's deadliest animals could put a kid right to sleep? Again, science, animals, nature… my son's favorite combination. National Geographic Readers are full of fascinating facts.
This bilingual book tells interesting information about sabertooth cats. The paragraphs are short and you can read it in either Spanish or English, or both at the same time to compare. We like the one about velociraptors, too.
I hope you find some of these books inspiring for your child! Have fun reading together and enjoying Spanish!
Check out my book list recommendations from my 5-year-old here and my 1-year-old here. Looking for more book recommendations? Let me know. Bilingualbalance@gmail.com
Explore more Spanish reading ideas on my Pinterest board.