Print and digital magazines for children and teens
Sharpen your kids' reading skills and let them explore the world through a magazine in Spanish!
Magazines, like books, offer an engaging way for children to boost their literacy skills. They can be enjoyed together with a parent or read independently. Magazine articles are a great way to practice beginning Spanish reading skills or to use reading to learn about other topics – like history, culture, or science!
A magazine subscription can also support Spanish language learning at home – even if parents don't speak Spanish. Children young and old can use magazines to practice their Spanish language skills. They are an enticing classroom tool for dual language or Spanish teachers. And a wonderful way for parents to encourage their child's language learning at home!
Digital or print magazines can provide quality, fun language learning – making kids want to read and learn in Spanish! A magazine subscription in your target language would be a great gift idea!
Related post: Ideas for Supporting Second Language Learning at Home
This post may contain affiliate links. Thank you for your support!
Algarabía niños
For Ages: 5+
Language: Spanish
Algarabía is a Mexican magazine that explores informational topics kids will love – like animals, nature, movies, and history. Print editions are only available in Mexico, but kids can enjoy this magazine online from home! Explore this digital magazine at Algarabía niños – and get your child learning, playing, and exploring today. I'd recommend it for elementary-aged students.
ChopChop
For Ages: 8-12
Languages: English, Spanish
ChopChop is a fun, 48-page quarterly cooking magazine for kids and families who love to make new recipes together! It is available in both English and Spanish and includes fun food facts and recipes that are inexpensive, delicious, and ethnically diverse. You'll also find STEM activities, puzzles, and interactive games included in each edition. The magazine is endorsed by the American Academy of Pediatrics and winner of the prestigious James Beard Foundation Award for Publication of the Year. Learn more about print and digital editions directly from Chop Chop's website. It can also be purchased from Amazon in Spanish or English.
Related post: Language Learning with Kids in the Kitchen
Explora Bookazine
For Ages: 7-12
Language: Spanish
Our new favorite Spanish language magazine! Explora has BOTH amazing print and online content for kids to enjoy. A book-quality magazine you can read again and again (or "bookazine"), Explora is for adventurous young children who love learning new things! Kids who want to make new discoveries and travel the world will adore each enterprising edition. This bookazine includes perfectly-selected, eye-catching photography, illustrations, and graphics. Inside, you'll find fascinating articles on a specific topic (like oceans, museums, or world monuments). You'll also discover poetry, quick facts, interviews, and – my favorite – interactive activities to complete right on the page. Head to Explora Mag to order print editions or read online articles today!
Highlights High Five Bilingüe
For Ages: 2-6
Languages: Bilingual English/Spanish, English
Highlights magazines have been a hit with all three of my children, and I love that they offer a bilingual option! This magazine will get parents and children interacting as they read poems and short stories together in both English and Spanish. This is an excellent choice for a family learning Spanish or English together – or kids just starting out with Spanish learning. Subscribe on their website or on Amazon.
Jot Down Kids
For Ages: 8-16
Language: Spanish
Jot Down Kids is a digital magazine created in Spain for kids and teens. The magazine articles explore four themes – movies and television, sports and games, science and technology, and history, art, and literature. It includes short, informative content as well as eye-catching photos and graphics. Aimed at older children and teens, it would be an excellent choice for language immersion students proficient in Spanish. You can read the magazine anytime at Jot Down Kids!

Muy Interesante Junior
For Ages: 4+
Language: Spanish
A fun and informative online magazine for kids who love to learn the why behind all their favorite questions. This is an authentic Spanish magazine from Mexico. It is a nonfiction magazine with a theme for each issue – a great vocabulary-building opportunity! While the print editions do not ship outside of Mexico, you can purchase digital editions individually or subscribe annually through their app. Kids can also read free articles through their website: Muy Interesante Junior.
National Geographic Kids
For Ages: 6-14
Languages: Spanish, English
National Geographic Kids is a high-quality magazine full of amazing animal photography, interesting science facts, and information on just about anything a kid wants to know! Each edition engages children in learning about science, technology, and nature – with fun activities, jokes, and games mixed in. My own son's favorite section is "Weird but True / Increíble pero cierto" because he loves learning crazy facts! You can find the English version on the National Geographic website or a variety of online retailers. The Spanish magazine is available here.
Reportero Doc
For Ages: 9+
Language: Spanish
Reperto Doc is an authentic Spanish magazine from Bayard Publications in Spain. This magazine helps kids discover the world of science, nature, history, and culture. It is full of interesting information, high-quality photography, and posters for kids. A top pick for the whole family to enjoy together. While pricey, it is available as a print edition here in the United States. Perhaps it could be a recommendation for your local library!
Scholastic Spanish Classroom Magazines
For Ages: 3-6, 12-18
Language: Spanish
Scholastic offers wonderful Spanish language magazine options for teachers or homeschoolers! Let's Find Out is their classroom magazine subscription for preschool and kindergarten students. It is a short magazine with themed information to make current events, holidays, and other topics interesting and relatable to young children. Photo credit: Scholastic.com.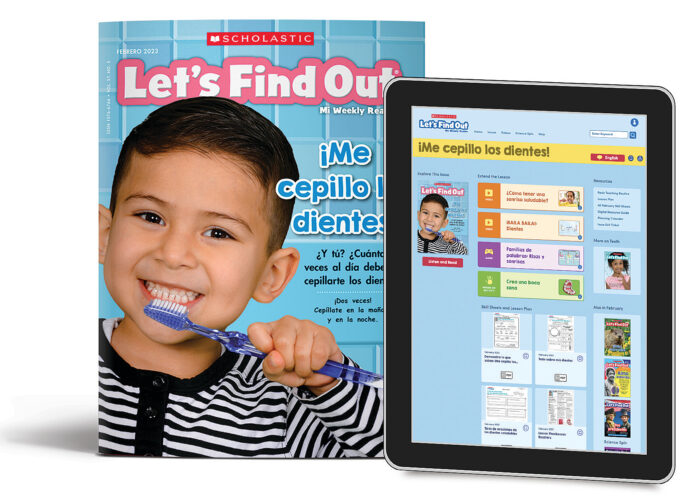 They also offer three different language levels of Spanish magazines for middle and high school students. The magazines engage students in reading and learning about language and culture from Spanish-speaking countries. Each magazine comes with a teacher's guide and lesson plans. Take a look at Scholastic to find the right level for your students. Scholastic also creates magazines for students of all ages in English.
¿Qué tal? Level 1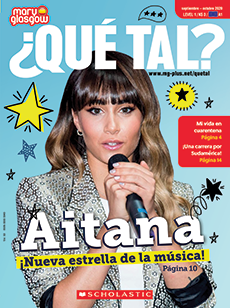 Ahora Level 2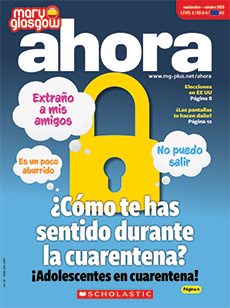 EL SOL: Level 3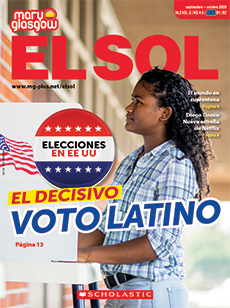 BONUS
Do your kids love the science and nature themes in the English magazine Ranger Rick as much as mine? You can access free Spanish articles on their website! Each month, they publish one article from the magazine in Spanish – and you can find all of them right here on Ranger Rick!
Related posts you might like:
Do you know of another excellent Spanish language magazine for kids with current issues in print or online? I'd love to add it! Let me know in the comments below. We can also connect on Instagram, Facebook, Twitter, or Pinterest.
Happy reading!
Jenna