The school year is about to start for my kids! This year my oldest is going to second grade, and my older daughter gets to go to kindergarten. The teacher in me loves this back-to-school season: the new school supplies, the excitement, the amazing back-to-school books.
Despite the school year looking a bit different for most of us this year, I've still pulled out all of my fun books to get my own kids excited to start school again. Take a look to find one for your own little learners! These sweet picture books are for a variety of young kids – recommended for preschool through second grade (you'll see some are better for the littles and some better for older kids).
This post contains affiliate links. Thank you for your support! Check out more book recommendations in my book resources or in my Bookshop.
Books about going to school
by Laura Numeroff, illustraded by Felicia Bond
One of our very favorites for back-to-school time. Little Mouse adds an extra fun twist when he tags along to a young boy's school day. A classic book to start the year!
by Anna McQuinn, illustrated by Rosalind Bradshaw
We love the Lola series books, and this one will get young students excited and reassured about the first day. Lola gets ready with her family, takes pictures, and heads to school to play and read. Before she knows it, it's time to go home!
written and illustrated by Nancy Carlson
Henry isn't so sure he's ready for school, but when he gets there he realizes how much fun school is! This story will walk new kindergarteners through the school day, getting them excited for all the new activities.
by David Shannon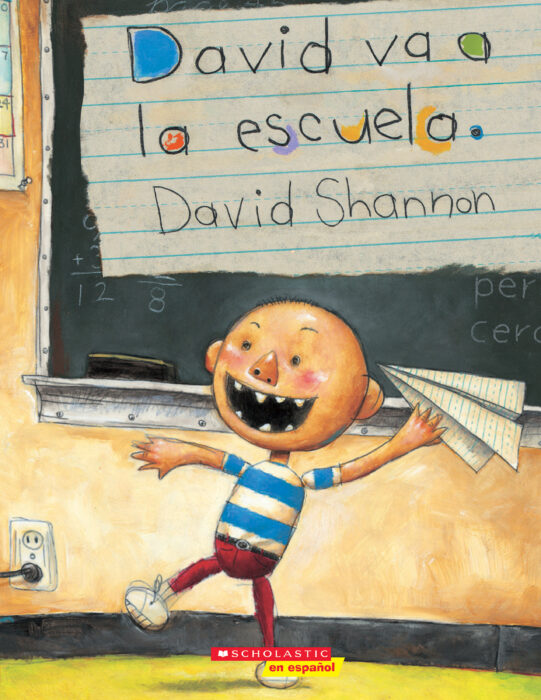 Part of the David book series, this humorous story will have kids laughing! David is full of energy and causing trouble at every turn for his teacher and classmates.
by René Colato Laínez, illustrated by Joe Cepeda
While not particularly about school, this English and Spanish book is a great choice if you'd like to get kids singing. A new spin on "The Wheels on the Bus," it starts out with two kids getting on a school bus, and ends at a field trip to a carnival.
by Norman Bridwell
Puppy Clifford gets into all kinds of messes when Emily Elizabeth takes him to school! We also have and love Clifford va a Kindergarten if you have a new kindergartener this year like me.
by Jonathan London, illustrated by Frank Remkiewicz
If your kids love Froggy like my first graders did, this is a great choice to start the year. A cute story about the excitement of Froggy's big day.
Books about first day jitters
by Alexandra Alessandri, illustrated by Courtney Dawson
This touching story can be read entirely in Spanish or in English. It is about little Isabel, who only speaks Spanish, and is just starting at a new school. Isabel knows her teacher and classmates will speak English, and she's worried about learning a new language. On her first day, Isabel learns that she can make new friends even if they don't speak each other's languages – yet!
by Sara Pletcher, illustrated by Randall Pletcher
This amazing book is about Sofía and her first day at a bilingual school. We follow along with her as she figures out how she'll communicate with her teacher and peers in a new language. Love this for dual language classrooms!
by Audrey Penn, illustrated by Ruth Harper
A classic for kids who miss their parents when they start school. Raccoon is off to school and her mother shows her how a kiss in her hand can remind her of her family's love all day.
Books about classroom community
by Nancy Maria Grande Tabor
This book celebrates that all students in the class are unique. A great choice to highlight student's differences (especially in a dual language class with native English and native Spanish speakers) and start the year off as a classroom family that respects everyone.
written and illustrated by Kevin Henkes
Another classic book, Crisantemo is a passionate mouse who stops liking her name when her classmates make fun of it. However, with the help of a new music teacher, she decides her name is perfect for her!
by Monica Brown, illustrated by Sara Palacios
An excellent book to help kids be proud of who they are, even (and especially) if it's different than everyone else! Marisol McDonald is a biracial little girl who does things her very own, mixed up, unique way.
by Juana Martinez-Neal
Alma Sofia Esperanza José Pura Candela has six names – and she thinks that's too many! But when she learns about the special person and story behind each name, she becomes proud of her name and heritage.
by Carol McCloud, illustrated by David Messing
This inspiring story teaches kids the importance of building others up with our words and actions. When we use kind words, help someone, or give a hug, we fill someone's bucket. But we can also be bucket dippers, too.
by René Colato Laínez, illustrated by Fabiola Graullera Ramirez
Young René Colato Laínez is from El Salvador and has two last names. When his teacher leaves off his second last name, he feels like he lost half his family. Then he gets to present his family tree to the class, and he shows them the importance of both his family names.
Books about teachers
by Harry G. Allard, Jr., illustrated by James Marshall
Room 207's teacher is missing! One day, the students' kind, caring teacher is replaced by a mean, tough substitute. The class learns to appreciate Srta. Nelson and show her respect.
by Julie Danneberg, illustrated by Judy Love
Sarah Jane Hartwell is starting at a new school and feeling nervous and scared. Thankfully, she meets the amazing Mrs. Burton, who makes all the difference in a great start to school!
Books about school rules
by Jane Yolen, illustrated by Mark Teague
Another hilarious story, this one is all about some funny dinosasurs who show us what to do (or what NOT to do) in school. A great discussion starter about appropriate classroom behavior.
by Dwayne Hicks
On Abby's first day of school, she and her classmates have fun learning all about their new rules. This simple and clear series also includes rules for the school, library, playground, and school bus – all in English or Spanish.
La escuela de buenas maneras de Doña Carmela
by James Maclaine, illustrated by Rosie Reeve
Follow along with little raccoon Alberto as he goes through his school day. His teacher, Doña Carmela, helps him change his bad manners to good ones by teaching him the rules in each area of the school.
Enjoy the first weeks of a new school year! I hope these books will calm your kids' fears and get them excited to have fun learning.
Happy reading!
Jenna